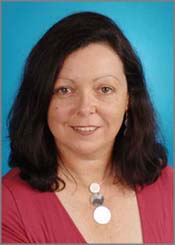 Narelle Willis completed the Pathology Technicians Certificate in 1979 and worked at the Department of Medicine, University of Sydney, developing animal models for the study of asthma.
In 1980 she was employed as a Technical Officer in the Renal Laboratory, Royal Prince Alfred Hospital, and was involved in the international multi-centre study on Cyclosporin use in transplantation. In 1994, after six long years, she completed a BSc in Environmental Biology at the University of Technology, Sydney (now a qualified greenie), receiving the Environmental Biology Prize and the Dean's Merit Award.
In 1997 a career change was decided and she began work at the Centre for Kidney Research as a Research Assistant involved in an NHMRC funded study looking at the natural history of urinary tract infections in preschool children. In 1998 she completed a MSc at UTS. In 1999 she was employed as the Information Manager for the Centre for Kidney Research and the Department of Nephrology, before taking on the role of Managing Editor of the then-Cochrane Renal Group. Narelle retired as Managing Editor of Cochrane Kidney and Transplant, and is now the Copy Editor for the group.