'It's not every day we get to see the immediate clinical translation of our research into care for our next patient,' says Jonathan Craig, Coordinating Editor of the Cochrane Kidney and Transplant Group. 'Which makes it quite striking and genuinely pleasing when we are able to do so. In the case of our most recent review update, we're seeing first hand how our findings can directly translate into greater certainty and better outcomes.'
Published in March this year, the updated Corticosteroid therapy for nephrotic syndrome in children review is already changing clinical practice, informing discussion at major paediatric meetings around the globe and reshaping young patients' experiences of treatment. The review was previously published in 2000, 2003, 2005 and 2007, but the addition of three new studies this time round has significantly changed its ultimate conclusions. The impact of these new findings is perhaps nowhere more evident than on daily ward rounds at Westmead Children's Hospital, where Jonathan and review co-author Deirdre Hahn see on average one case of childhood nephrotic syndrome every one to two weeks.
'Childhood nephrotic syndrome is a well recognised chronic condition in which the kidneys leak protein from the blood into the urine, causing swelling in the face, stomach and legs,' explains Deirdre. 'We find low levels of protein or albumin in the blood and affected children are at an increased risk of infection, as important proteins used by children's immune systems are lost. The onset of the disease can be slow and the symptoms are often overlooked or misdiagnosed, so many children are seriously ill by the time they present for treatment. It can be quite distressing for the young patients and their families, but most children do respond to treatment very well.'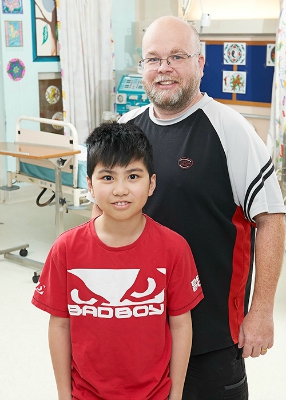 Lively ten year old Clay Wu typifies the experience of many children who suffer from nephrotic syndrome, as his father Dean explains. 'Clay is a really active kid who loves nothing more spending time with friends and getting along to as many birthday parties as he possibly can,' he says. 'But just before Christmas last year he started feeling tired and listless, and just wasn't his himself. He had minor swelling in his leg, which we thought was some kind of mozzie bite. Before long though the swelling spread right up through his body to his face. I took him straight to Emergency and he was admitted right away. Since then he's had to spend a bit of time in hospital and a lot of time at home resting up. It's pretty hard going for such an active boy but he's taken it all in his stride and does whatever's required of him. He's really good like that.'
Children like Clay who have an initial episode of nephrotic syndrome are prescribed corticosteroid drugs such as prednisone or prednisolone and the majority respond very well to the treatment, reducing the risk of serious infection, and other complications. However up to 80 per cent of these children who respond well at first will have repeat episodes later, often triggered by viral infections. The central question for paediatricians treating the syndrome then has been whether prolonging corticosteroid treatment for up to six months could reduce this risk of relapse. Until now there has been no definitive answer and as a consequence length of treatment has varied.
'There's long been a consensus that corticosteroids are highly effective in treating nephrotic syndrome,' says Deirdre. 'But the ideal duration of therapy has always been the subject of debate. This is primarily because the drugs have many well-recognised and potentially serious adverse effects. We know that giving children further corticosteroids over time can lead to poor growth, cataracts, osteoporosis, obesity and high blood pressure among other things. Previously we haven't had the evidence we needed to determine the most effective, least harmful length of treatment.'
This sought after evidence was found in three recently published, well-designed randomized controlled trials that found no benefit of increasing the duration of prednisolone therapy beyond two or three months. As a result, the conclusions of the systematic review changed and in real terms, for many children, this means an effective halving of the time spent on steroids suffering adverse side effects.
'As a parent you want the best treatment for your child,' says Dean. 'But you don't want unnecessary treatments. I read up on corticosteroids when Clay was diagnosed and I did have some concerns about the long-term effects. If he'd been prescribed a longer course for six months without review and with no other treatment options available, I would have been really worried. As it is I'm glad Dr Hahn's research has meant more certainty for me, and less treatment with negative side effects for Clay.'
 'I think there are really three elements that make this review so interesting and impactful,' concludes Jonathan Craig. 'Firstly, it considered a straightforward and well recognised clinical condition that virtually every paediatrician sees and treats. Secondly it was slightly unusual in that it didn't consider intervention A versus B, but rather the effect of the same intervention given over different periods of time. That's quite a straightforward concept for people to understand, but is rarely evaluated. And finally, I think there is a high level of recognition that Cochrane is the home of trusted and accurate evidence. We've been really pleased to make such an important and impactful contribution to paediatrics and to the Cochrane Library.'
As for Clay Wu, it's now six months on since his initial diagnosis and things are looking up. 'Clay has spent a good deal of time resting, quietly reading or watching TV – always with either his little brother or sister by his side to pat his arm or hold his hand. I think having such devoted carers has helped a lot, along with the care from everyone at the hospital of course…' says Dean. 'We're all confident he'll be back on the birthday party circuit in no time.'
Photos: Clay Wu and Deirdre Hahn. Clay Wu and Dean Wu.  Images courtesy of Westmead Children's Hospital.