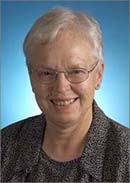 Dr Elisabeth Hodson is an honorary consultant paediatric nephrologist at the Children's Hospital at Westmead in Sydney, Australia and was Head of the Department of Nephrology from 1995 to 2008.
Her research interests have included CKD-Metabolic bone disease, antenatal diagnosis of urinary tract abnormalities, growth in children with chronic kidney disease and, since 2002, a cohort study of antecedents of kidney disease in Aboriginal and non-Aboriginal children and young people.
Since 2000 she has been an editor for Cochrane Kidney and Transplant, which is based in the Centre for Kidney Research at the Children's Hospital at Westmead. Dr Hodson has written and/or updated fourteen systematic reviews of randomised controlled trials of therapies for kidney disease for Cochrane Kidney and Transplant. These include systematic reviews on the management in children of steroid-sensitive nephrotic syndrome with corticosteroids and corticosteroid-sparing agents, of steroid-resistant nephrotic syndrome and of Henoch Schönlein Purpura Nephritis.
She was a member of the KDIGO international group developing guidelines for the management of Glomerulonephritis. The Guidelines were published in 2012.