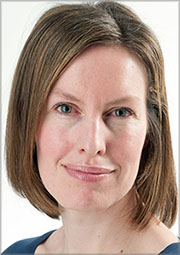 Suetonia Palmer is an academic nephrologist at the University of Otago at Christchurch in New Zealand. She studied medicine at the University of Otago, graduating in 1995. She became a Fellow of the Royal Australasian College of Physicians in Nephrology in 2005. She completed a PhD in 2010 on the link between kidney function and heart health and a 2-year post-doctoral fellowship in Boston at the Brigham and Women's Hospital.
Suetonia began as an author with the Cochrane Renal Group in 2004 during her training to become a Nephrologist. Through systematic reviews, she discovered a passion for understanding more about the amount and quality of evidence we have to make good clinical decisions in Nephrology. She is actively engaged in the conduct of systematic reviews of interventions (the treatments we use), prognosis (whether risk factors for disease link to important outcomes), and trial quality (how good is the evidence on which to base our decisions).
Suetonia enjoys training others in systematic review and meta-analysis using an evidence-based approach to research. She has strong collaborative links with researchers in Italy, Australia, Europe and North America with an increasing research output including recent editorialised publications on key internal medicine and nephrology journals.
Suetonia lives with her husband Andrew in Christchurch, New Zealand, on a small farm.